As the price drops further, the Avalanche price analysis yields negative results for the day. The price, which had been rising over the previous two days, has since fallen to $13.03. The trend appears to be turning and selling pressure has emerged, putting the bears in control of the market. As the cryptocurrency has yet to break over this level, the price is encountering resistance at the $13.06 level.
AVAX/USD 1-day price chart: The AVAX price falls to $13.03 as bears reclaim control.
Today, following a brief period of recuperation, the 1-day Avalanche price analysis chart is heading in a bearish direction. AVAX/USD is currently trading at $13.03. The cryptocurrency continues to show increases of 2.68 percent over the past 24 hours, but it also reports losses of 0.23 percent over the previous week as a result of the bearish phase, albeit the losses are small. Over the last 24 hours, the trading volume has declined by 7.48 percent, giving rise to a 0.47 percent market dominance.
Due to the strong volatility, the upper and lower Bollinger bands, which signify the resistance and support for AVAX, are at $18.3 and $9.73 respectively. The score of the Relative Strength Index (RSI) has marginally reduced as well because of the decrease in price and is present at index 41 in the lower half of the neutral zone. The moving average (MA) is trading at the $12.68 mark.
Avalanche price analysis: recent developments and further technical indications
Even though the price breakout was higher at the beginning of the trading session, the 4-hours Avalanche price analysis is displaying bearish indicators as the price has dropped to the $13.02 level. Even though the price has been continuously falling for the last eight hours, the price is still higher than the $12.88 moving average figure. As the Bollinger bands are currently expanding, the volatility has been rising throughout this time.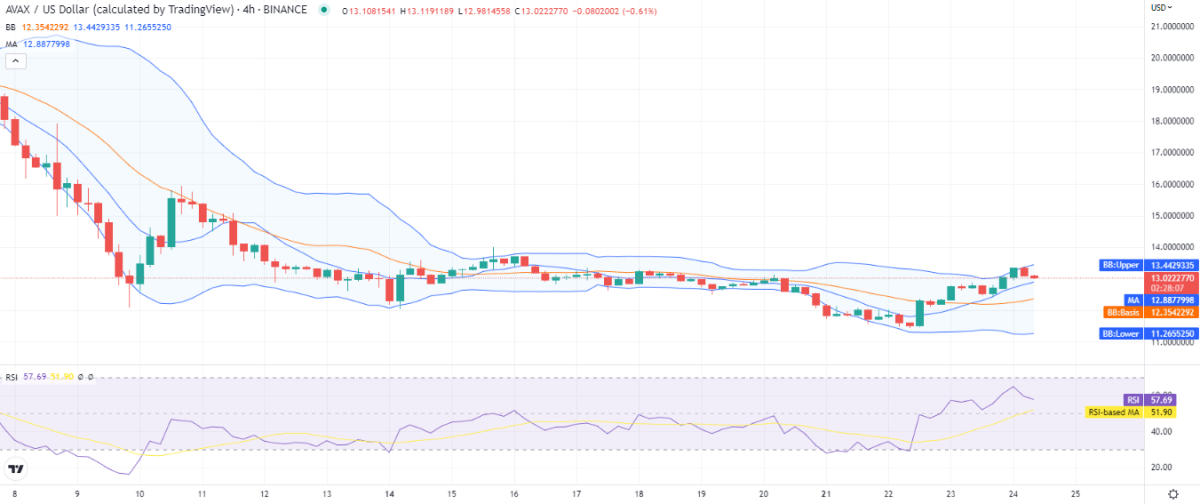 The upper Bollinger band is now at $13.44, whereas the lower Bollinger band is situated at the $11.26 level, and if the downfall continues, then soon the price will travel below the MA level. The RSI score is going in the same direction and has decreased to zero in the upper half of the neutral region.
Avalanche price analysis: conclusion
The Avalanche price analysis shows that the AVAX is struggling at the $13.02 level and continues to fall as bearish momentum returns. There has been a constant downtrend for the last eight hours; however, this was expected after a two-day recovery period.
Disclaimer. The information provided is not trading advice. Cryptopolitan.com holds no liability for any investments made based on the information provided on this page. We strongly recommend independent research and/or consultation with a qualified professional before making any investment decisions.
READ STORY:
Cryptopolitan