Bitcoin and other risk assets have been heavily driven by Federal Reserve Chair Jerome Powell's commentary, thus affecting investors and traders alike.   
The global cryptocurrency market led by Bitcoin (BTC), the largest digital asset by market cap, has been affected by monetary policy changes. The Fed recently stated that we could expect to lift interest rates by half a percentage point in Dec., leading to a rise in crypto prices. 
So how have monetary policies become relevant to Bitcoin, and how will they affect the price movement of digital assets going forward?
Bitcoin Reacts to Powell's Speech 
Over the last week, the cryptocurrency market remained volatile, but BTC and most altcoins managed to stay in the green after Powell's speech. Bitcoin price saw a 3% rise gaining ground above the $17,000 mark. 
BTC traded at $17,318.69 at press time, showing 6.79% weekly gains. After Powell's dovish remarks that the Federal Open Market Committee (FOMC) would most likely raise interest rates by 50 basis points (bps) instead of another 75 bps hike, this instilled some confidence in investors. 
Powell's encouraging signs around inflation and unemployment aided the BTC bullish price momentum. BTC price rose in tandem with the S&P 500, which saw a 3% rise. After four hikes of three quarters of a percent to curb high inflation, Powell sounded optimistic about a half percentage point rate hike at its next meeting on Dec. 14. 
Crypto analysts have noted that since this cycle, the monetary policy has become relevant for Bitcoin. The peak of the shadow federal funds rate on Dec. 18 has more or less marked the bottom of the bear market. 
Notably, when the shadow federal funds sharply rose in Dec. 2021, the Bitcoin bear market started.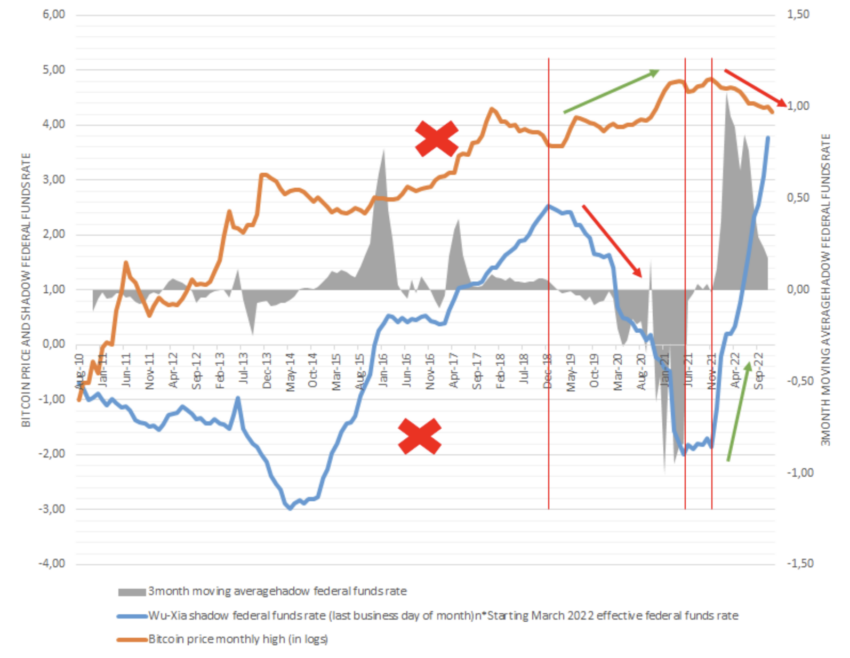 One reason behind the high correlation BTC price has seen with regulatory policies could be the widespread adoption of Bitcoin over the last few years. Additionally, the same aid market maturation with the introduction of futures markets and institutional interest rising on a macro level. 
These reasons have made BTC more correlated to the traditional financial markets. 
Unemployment Rate and Bitcoin Correlation 
In a recent video, analyst Benjamin Cowen pointed out that the unemployment rate remains low despite the Fed rate hikes. Historically, the moderation of hikes has delivered good results for risky assets. 
Cowen anticipates that if the Fed fund rates stick to 4%-5% by year-end, BTC could enter the new year with some bullishness. Bitcoin and other cryptocurrencies could rise on optimistic U.S. jobs report inspiring investors to take action in the market. 
From an on-chain perspective, the market bottom could collide with shadow federal funds rate peaking. 
Bitcoin Market Value to Realized Value (MVRV), too, presents an interesting take on the BTC bottom. A recent CryptoQuant analysis showed that at the bottom of past bear markets, the length of time of the MVRV indicator, indicated whether the price of Bitcoin was overvalued or undervalued.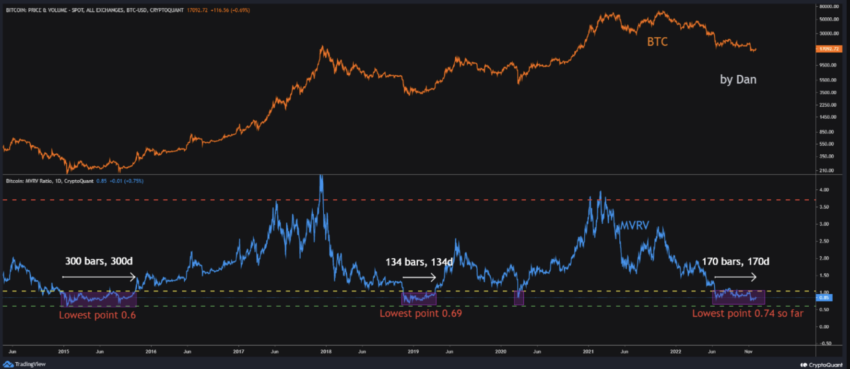 The MVRV has stayed below one, as shown below.
2015: 300 days, lowest point: 0.6
2018: 134 days, lowest point: 0.69
2022: (currently ongoing) – 170 days, lowest point: 0.74
One can expect the MVRV to fall further if the bear market continues due to macro issues. Since the lowest point still hasn't been reached, it is challenging to say whether an absolute bottom has come.  
For now, a lot of the BTC price action could depend on the monetary policy changes in the macro market. Inflation and unemployment rates could play a key role in shaping BTC price action. 
The post Fed Chair Jerome Powell's Speech Impact on Bitcoin appeared first on BeInCrypto.
READ STORY:
BeInCrypto