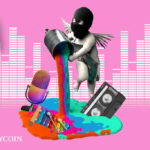 When people hear of NFTs, the first thing they think of is beautiful but quirky digital images. But those images are only one kind of NFT. NFTs can be anything, from art to music and even videos. 
Music NFTs are an interesting digital asset class that could upend what we know as the music industry today. Right now, digital art NFTs are changing what we think art and the art economy are and can be. And music NFTs might also pose some equally interesting questions for music. 
If rolled out perfectly, music NFTs can decentralize music and make things like labels, recording contracts, and even sponsorship irrelevant. They could open up a new genre and allow us to enjoy music in a way that hasn't been tried before. 
If you have not heard of a music NFT before, you'd have a lot of questions about its existence. How can a song exist on the blockchain, you may ask? How can it be sold? How can it be bought? Who would even buy a music NFT? 
These are all reasonable questions. Music NFTs are a new way for listeners to buy, share, and even make music. Like digital art NFTs, music NFTs are a unique one-of-a-kind asset that exists on the blockchain. The hash on the blockchain isn't the music itself, but the record of what song it is, and who owns it. 
The scope of music NFTs is currently pretty wide. You can own a music NFT of any tune for a 10-second TikTok trend, to an actual rock music album. The limits are quite endless. It could even be the NFT of an entire comedy special, a sermon, or a political speech. It could be anything at all. 
While music NFTs may not have captured the popular imagination like digital art NFTs, they are doing quite well. Since the wave of music NFTs started in 2021, multiple artists have tried to create music NFTs to sell to fans. There's even an NFT music chart called Top of The Blocks that tracks the successes of these NFTs. 
In the beginning, the NFTs that made the chart were somewhat cheap, with only a few cracking the $300 mark. But as people got more interested in the idea of these NFTs, they got even more popular and rose to a peak of about $3,000. 
It's little wonder that some mainstream celebrities have started speaking about them. For example, Snoop Dogg has announced plans to make Death Row Records the first NFT record label. Universal Music also recently allowed its artists to release music NFTs on the blockchain. 
In February of 2021, Jacques Greene, an electronic music sensation, sold the publishing rights to a brand new single titled "Promise." The sale was done through Foundation and it sold for about 13 Eth, which was about $23,000 at the time. 
Other interesting examples of music NFTs include an unreleased Whitney Houston track and Tory Lanez with his 2021 album When It's Dark.
How Music NFTs Can Shape the Future of Music
The first and most important way that NFTs could change the future of music is through monetization. 
If there's one thing people underestimate in the music business, it's money. People rarely understand just how important money is to artists who are looking to hit the big time. Artists who eventually get popular and get successful don't often do so because of their talent—even though they usually have some—instead success is more or less a question of how much you can spend on marketing. 
Music is just like every other product in the market. The success of a particular artist is dependent on talent, which is product quality in this case, and market budget. Unfortunately for a lot of talented musicians, it's extremely difficult to get enough money to reliably push their music without greedy record labels. 
Music NFTs will enable these talented but unsuccessful artists to sell their music directly to their fan base. They will also be able to use monies realized from the sale of their music to promote their artistry. These monies can be invested in things like marketing, brand promotion, and even shooting music videos. 
At least one musician is already using music NFTs just like that. Violetta Zironi came in third in 2013 when she participated in the X Factor competition. Ever since then, she's tried all she could to be a mainstream success, but she saw very little progress. One day, after she went home for Christmas, her mum told her about NFTs and she decided to get into them.
After months of grinding and promoting her music on Discord and Twitter spaces, she finally began to see real progress. After about three months or thereabouts, she was earning thousands from selling her music as NFTs. 
Asides from giving up-and-coming musicians a leg up, music NFTs could also be the key to equitable compensation amongst artists. Like most industries, the music industry is divided between the haves and have-nots. For example, most of the top 1% of artists on Spotify earn less than $50,000 every year. Unfortunately, these artists often sign record label deals that practically offer them peanuts. 
Music NFTs will put power back in the hands of artists. They could sell one NFT for tens of thousands of dollars—which is money they might never get from the streaming income of the same songs. 
Lastly, music NFTs open up a new door for creative collaboration between artists. Digital artists and musicians can come together to create a music and art NFT collection, which would be a unique art form. And this is true across all kinds of art. 
The fact that music NFTs could be upgradable means that musicians can effectively distribute new content without the help of DSPs. The owners of these NFTs could even upgrade them themselves by creating a fan edit. 
The future is essentially limitless, as there's no telling what form music NFTs could take.
What Could Stop Music NFTs?
If music NFTs are so revolutionary, why haven't they become an important part of music culture today? 
Perhaps the biggest problem with music NFTs is that, as a concept, it is relatively young. The idea has only been commercially viable for about a year or two, and it will take some time for it to fulfill its potential. 
Asides from that, the NFT ecosystem as a whole is still growing. While it is growing rapidly, it's yet to reach a critical scale, and as such, there's a limit to its reach. Since music is a game of numbers, musicians won't be able to use NFTs as a distribution and monetization channel until a critical mass of people starts using NFTs. 
The last reason why NFTs are yet to become influential is the somewhat high technical barrier they have. Artists who want to venture into that field will have to surmount that barrier. That certainly discourages a lot of artists and stops them from truly utilizing music NFTs the way they could.
How Musicians Can Get Into NFTs
If you're a musician and want to create music NFT, here's a short guide for you. 
The first thing you need to do is decide on an NFT marketplace. NFT marketplaces are websites where people display the NFTs they have minted. People can also purchase NFTs from this site once they connect it to their wallet. 
NFT marketplaces usually exist on blockchains, and to mint NFTs on the blockchain, you'd have to pay something called a gas fee. This is the fee you pay the network to expend the required energy to mint your music as an NFT. 
If you don't have a lot of technical knowledge, don't worry. OpenSea and NFT Showroom allow you to mint your song or album as an NFT without any programming knowledge. 
Once you create your NFT, the next thing you should do is market it. The best way to market your NFTs is to get involved with the music NFT community. Attend Twitter spaces. Attend Google meets. Join Discord communities. By drawing attention to your NFT, you're showing off your talent and also giving people a reason to invest in you. 
The NFT space has been plagued with fraud in recent years, so artists have to be careful with safeguarding their NFTs. 
Artists may have to offer extra utility alongside their music token, as people may not want to purchase a song they can listen to on streaming services.
Music NFTs are just another way for NFTs to change the way we think about property. They have the potential to change the way we listen to and experience music. They also represent an interesting class of assets that retail crypto investors can get into. That's why they are important, and you should care.
Every few weeks, we hear about a new thing that may change the world significantly in crypto. Many times they end up being flukes. However, sometimes they end up being true. Music NFTs are like that. If they reach a critical mass of acceptance, they will almost certainly change the way artists express themselves, and the way everyone else enjoys music.
Gaming & NFTs, NFTs, zz_index, zz_popular, zz_top, ZZZ Editors' Picks, Crypto Future, Music NFT, Music NFTsRead More
READ STORY:
CoinSpectator