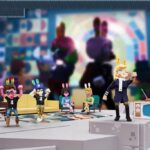 Leading global media and raunchy lifestyle brand Playboy has announced it is returning to The Sandbox metaverse to launch its first original NFT collection. The adult entertainment giant previously collaborated with The Sandbox to bring its experience to Web3 by building the Playboy Mansion in its metaverse. 
Playboy's upcoming release will celebrate the brand's 69th birthday and will be an ode to the guests who brought Playboy Mansion parties to life. Fans can get their hands on Playboy NFTs starting December 6th.
At the same time, allowlisted users can get into the action early if they hold certain NFTs from The Sandbox's available collections. The NFTs will be playable avatars in The Sandbox metaverse, and holders are expected to gain amazing perks, event invites, and more.
Bringing Party Culture to the Metaverse
Playboy has a 70-year rich history of hosting parties in its mansion. These parties are undoubtedly a staple of the brand, featuring many famous pop culture artists, celebrities, and more. 
The raunchy lifestyle empire replicated its iconic Playboy mansion in The Sandbox metaverse in July this year. The two companies collaborated in providing a social game centered around the Playboy experience coupled with NFT collectibles, exclusive events, and more. 
The Sandbox and Playboy previously informed their communities they would use the MetaMansion to welcome the Rabbitar community. This time, Playboy is expanding its MetaMansion and Pleasure for All with Playboy Party People Avatars. They will be playable in The Sandbox, including for future Playboy events. 
Here are all the details about the upcoming release: 
Playboy is minting 1,969 Avatars in honor of the brand's 69th birthday. Playboy and The Sandbox's team will be reserving 38 NFTs for marketing purposes. 
Each avatar will be randomly generated with a unique combination of traits varying in different tiers of rarity. 
Ten unique one-of-one NFTs inspired by influential Playboy people and moments will also be put up for sale. 
The public sale will commence on December 6th at 2 PM UTC. 
Allowlisted users can access the sale one day prior to the public sale. 
To get allowlisted, users need to hold an NFT from the Playboy Rabbitars, Playboy NFT Art Collections, The Doggies Avatars, People of Crypto Avatars, Steve Aoki Avatars, or Kuniverse Avatars NFT collections before the snapshot on December 2nd. 
Winning the Sandbox's Twitter contest can also give users access to mint their NFTs early. 
Playboy will reveal the avatars two days before the public mint on OpenSea. 
Each avatar will be playable in The Sandbox metaverse and will unlock upcoming features, content, and experiences. 
Playboy plans to introduce unique play-to-earn (P2E) opportunities for avatar holders, allowing them to earn SAND through playing. 
All transactions will take place on Polygon, considering The Sandbox has moved its operations there.
Details about the mint can also be found in The Sandbox's blog post. 
Despite being targeted toward adults, Playboy has made its mark in pop culture. They've transitioned effectively from print magazines and live events to Web 2.0, and now a new phase has begun. Playboy's decision to take its experience to the metaverse is a big step for both the company and Web 3.0. 
The team has hinted at Playboy LAND, a dedicated space in The Sandbox metaverse. 
The Sandbox recently kicked off its LAND Sale in collaboration with Playboy and other popular brands. 
The metaverse is putting 1,900 LANDs up for sale in three neighborhoods, consisting of 634 LANDs from the first two neighborhoods, 112 Premium LANDs with a bundle of exclusive NFTs, and 35 ESTATEs that will be auctioned off on OpenSea.
Considering Playboy's adult-centric offerings, there are no age restrictions on the sale, metaverse, or website.
Playboy is one of the most iconic brands in pop culture, thanks to its long and rich history of hosting lavish parties and issuing provocative publications. The company has embedded itself in mainstream media for over 70 years and is now offering new experiences in Web3. Playboy's interest in the metaverse is crucial in bringing mainstream adoption to the sphere. The brand's decision to provide its experience in the metaverse shows that it is optimistic about the future of Web3.
You May Also Like: 
Polkastarter to Host Web 3.0 Game Awards Show, Nominates Over 200 Games
Gaming & NFTs, Gaming News, NFTs, zz_index, zz_popular, zz_top, ZZZ Editors' Picks, ZZZ Native, Playboy, Playboy MetaMansion, The Sandbox, The Sandbox (SAND)Read More
READ STORY:
CoinSpectator