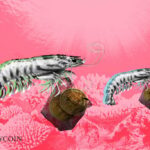 Shrimps have added 96,200 BTC since FTX collapsed.
Crabs have added 191,600 BTC since FTX collapsed.
The Bitcoin supply on exchanges has decreased to just 6.95% according to Santiment data.
Since the demise of the FTX exchange earlier this month, a subset of Bitcoin (BTC) holders called shrimps, a group of addresses holding less than one BTC, have added 96,200 BTC to their combined hoards.
This group now possesses more than 1.21 million BTC, which is equal to 6.3% of the total circulating supply of the leading cryptocurrency in the world, according to experts at Glassnode.
This month, a segment of Bitcoin investors known as "crabs," who own one to ten BTC, also purchased the decline. The blockchain data company claims that during the course of the previous 30 days, this group of investors accumulated a total of 191,600 additional BTC.
Retail Bitcoin Balances Reached New Heights
Additionally, November's purchases pushed the total amount held by shrimps and crabs to all-time highs, with the latter surpassing the previous high of 126,000 BTC set in July 2022. 
As a result of the crypto contagion spurred on by the bankruptcy of the FTX exchange, which impacted well-known companies like Genesis Global, Gemini, and BlockFi, Bitcoin, which had been trading above $21,000 at the beginning of November, recently dropped to a two year low, trading below $16,000. 
As of the time of writing, the most popular cryptocurrency in the world was trading at $16,470, a 1.18% decline over the previous day.
However, Bitcoin whales—those who possess more than 1,000 BTC—are the main group that has been partially dumping their holdings, moving over 6,500 BTC to cryptocurrency exchanges over the last month.
Even though this would indicate that they are prepared to sell, according to Glassnode, the overall Bitcoin whale holdings are still far larger at 6.3 million BTC.
As confidence in centralized exchanges (CEXs) has waned to new record lows, it should be highlighted that a sizable percentage of Bitcoin investors have chosen self-custody. According to a study by Santiment that came out on Saturday, the amount of Bitcoin on exchanges has dropped to just 6.95%. These levels were last witnessed almost four years ago.
Bitcoin, Market News, zz_index, zz_popular, zz_top, ZZZ Editors' Picks, ZZZ Native, Bitcoin (BTC), Crypto Exchange FTX, FTX Collapse, SBFRead More
READ STORY:
CoinSpectator